TeamVodafone 888 Nokia Application - Mnet Group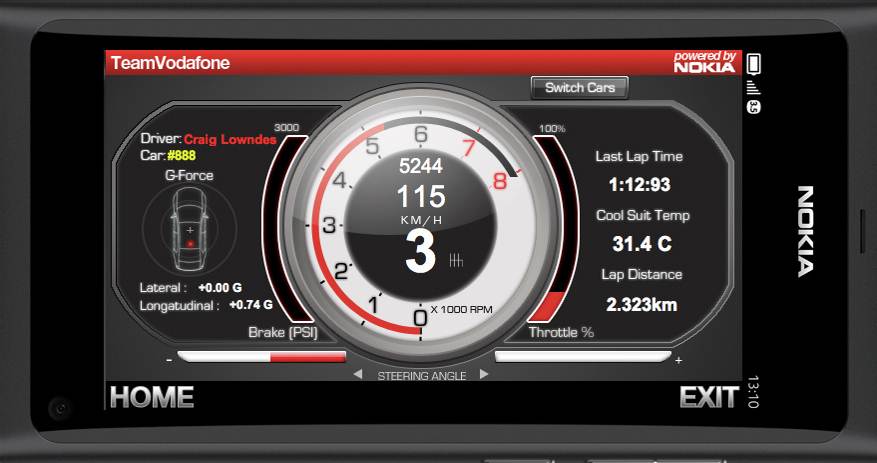 How to Vote
Register or Login, then click on the number of stars you give this entry.
Sport

Project Commissioner
Mnet Group

Project Creator
Kristy Manson
Sales and Marketing Director
Mnet Group
Project Team
Kristy Manson - Director Sales & Marketing Lui Iuliano - CTO
Project Overview
In looks and in performance this is a sophisticated and beautifully engineered application. It breaks new ground with live 'in car' telemetry and pit lane updates that are shared live with fans.

Project Brief
We were approached by Nokia to develop cutting edge apps for Symbian devices. In Q4 2010 Nokia actually dominated marketshare for smartphones (44.2% of shipments in Australia). The challenge was mindshare and demand for great local apps from the huge number of devices, like the new multi-touch N8's, out there in the market.

The technographics of motor racing fans matched up and TeamVodafone were interested in how we might connect fans with their team.

We would be building in the Web Runtime (WRT), a portable application framework that allows for the creation of widgets on the Symbian platform; it is an extension to the Web Kit based browser that allows launching multiple browser instances as separate JavaScript applications.

Project Innovation / Need
The task was to connect fans to the team, keep them informed and enhance their experience of the races. Mnet set about building a site worthy of a race team; innovative, tightly engineered and fast, packed with compelling features and functions including:

•Updated and current team news
•Team, car, driver information
•Updated championship information and results
•Multimedia section with access to the latest video and image galleries from each race
•Merchandise Store with team products available for sale, which link through to the web site for the actual transaction processing

The most exciting and dynamic feature of the application, which makes it unique, is 'Live'. It conveys in-car telemetry from both team cars during the race, in real-time, to a specially designed dashboard at the heart of the app. Telemetry includes the parameters:

•Speed
•Gear selected
•RPM
•Lap distance
•Cool Suit Temp
•Last Lap Time
•Steering Angle
•Throttle %
•Brake PSI
•G Force (longitudinal/lateral)

This is exactly the kind of detailed insight that fans covet. We succeeded in enhancing the relationship between TeamVodafone and their fans beyond the client's expectations. Whether at the trackside or anywhere else in Australia, TeamVodafone fans feel more connected to the team and to the sport of winning V8 races.


User Experience
The user experience delivered one-click navigation to separate pages including news, media galleries and the store.

The Live interface carries dynamic, complex information in a bespoke design that deliberately feels like a race car dashboard.

Project Marketing
Marketing was managed by Nokia.