ABC iPhone App - ABC Innovation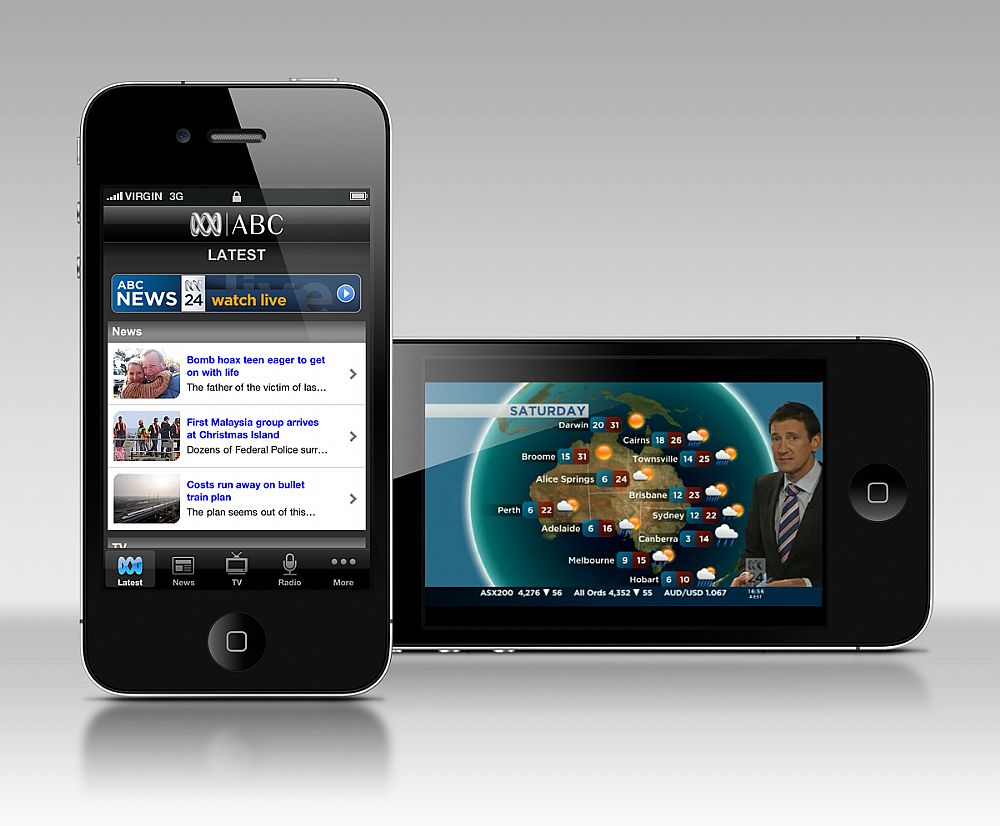 How to Vote
Register or Login, then click on the number of stars you give this entry.
News

Project Contact
Project Team
ABC: Christina Coulston Dale Smart David Noney Gabrielle Banks Georgie Ibarra Hamish Dobbs Justin Sinclair Manuela Davidson Matt Eckhaus Melissa Cooper Sarah Fawcett Trevor Gillespie Warren Armstrong 2ERGO: Amit Vaghela James Wong Ranjeet Elkunchwar Richard Mcilvenna
Project Overview
Sometimes, reading about something that just happened is not enough. You need to see it to believe and be able to share that information with others, engaging in a wider conversation to validate and process what's happening around you.

The ABC iPhone app does all that, providing up to the minute information that you can read, listen to and watch while stories unfold - or a little after that, via catch up services. It encourages users to engage in conversation with others, sharing what they've learnt via social networks and email.

Accumulated downloads to date: almost 1,650,000
Project Brief
The ABC is a trusted and innovative media organisation, enriching the lives of all Australians and presenting Australian perspectives to the world.

Our brief was to create an ABC experience that was unique to users on iPhone and as rich, compelling and relevant to ABC audiences as we can be.

It was an ambitious project aiming to aggregate much content into one single app. The multi-purpose app approach to development meant we needed to get the UX right, have all the necessary files in the right format for the platform and a robust infrastructure to support growth and scalability of services in the future.

The product life cycle of the ABC iPhone app demands several iterations during a year and in every one of those updates (even when bug fixing) we need to ensure our users perceive the value added to the services we provide.

Our overall goal is to maintain the ABC's position as an innovative and independent media organisation serving the needs of Australian audiences.

Project Innovation / Need
The ABC was the first broadcaster in Australia to simulcast live television (ABC News 24) on TVs and mobile devices. One year later, the ABC iPhone and iPad apps are still the only in their genre delivering this sort of service to Australian audiences 24/7.

While other broadcasters are now beginning to release similar apps, most are still focused on catch up and none seem to have the comprehensive rights ensured by the ABC to stream live television 24/7 on mobile devices.

In addition, users of this app can listen to 7 live radio stations (this number will go up to 26 on the upcoming release of the app) and catch up with a number of radio and TV podcasts, while reading the latest stories from ABC News, movie reviews from At The Movies and Movietime and music reviews from triple j and ABC Dig Music.
You don't see many multipurpose apps like that in any of the Australian app stores.

User Experience
ABC information architects have studied the iPhone SDK recommendations and decided to follow the standard approach for iPhone News applications.

The navigation was kept simple, with a main nav bar dividing the content into Latest (up to the minute information different ABC content areas), News (stories), TV (EPG, vodcasts), Radio (EPG, podcasts, music news) and More (movie reviews, ABC Shop etc).

Design has also prioritised a sober and functional look and feel, using black, white and blue as main colours. This has proven to be a useful decision when Apple launched the iPhone 3GS with additional "white on black" accessibility features. When on the accessibility mode, colours of the whole phone are inverted making it easier for visual impaired users (with a restricted level of sight) to receive and interact with the information on screen.

Project Marketing
The ABC launched the ABC iPhone app with the concept of 'Your ABC on the Move', focussing on the ABC's ability to deliver leading, independent Australian content to audiences when ever and where ever they want it.

The ABC used its existing television, radio and online platforms to tell audiences about the app via a series of engaging TV, radio and online cross promotions. The campaign was aimed at educating the audience on the fact that the free app was now available and was an easy and elegant way to keep up to date with news, information and entertainment from across the ABC.

The ABC also actively engaged with Apple to seek out opportunities to ensure their customers were aware of the ABC app. This included featuring the ABC app in physical in-store displays and having it as one of the apps profiled in an Apple print advertising campaign in 2009.

These marketing and cross promotional opportunities were supported via a successful publicity campaign aimed at ensuring consumer and mainstream media coverage of the app.