PayPal Mobile Express Checkout - PayPal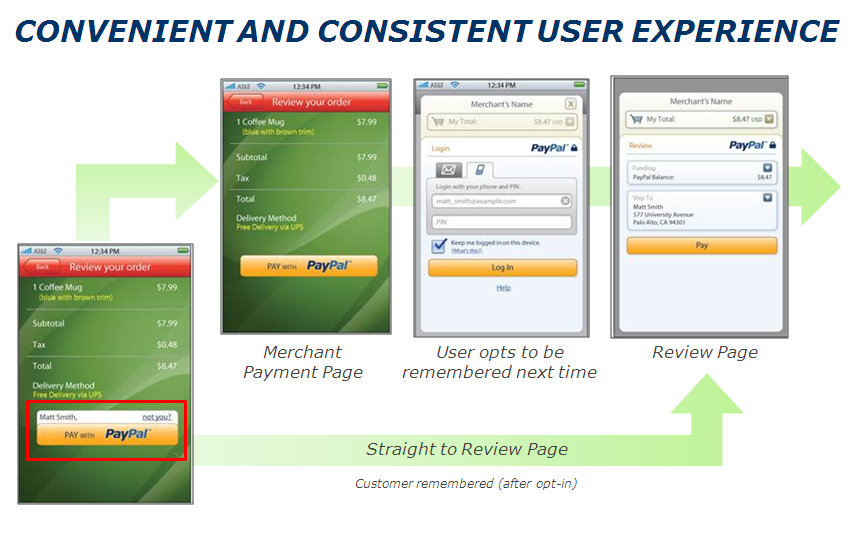 How to Vote
Register or Login, then click on the number of stars you give this entry.
Online Shopping & Payments

Project Contact
Project Team
Mobile Express Checkout has been designed by Paypal to enable secure and easy payments on mobile via either App or mobile web.
Project Overview
PayPal offers a payment solution for mobile app or website, ensuring fast, secure and easy payments on iOS,Android and Blackberry platforms. Thousands of merchants and over half a million customers in Australia have already transacted via mobile using Paypal's Mobile Express Checkout.
Project Brief
PayPal's Mobile Express Checkout gives merchants and customers the ability to easily and safely purchase on mobile phones. A mobile optimised payment flow allows a customer to simply enter their unique password and confirm payment without the requirement to enter credit card or address delivery details.
The limitations of a small screen make data entry onerous and difficult, PayPal can enable mobile payment in a few as 2 clicks. Using PayPal's "wallet in the cloud" framework, all transactions are securely managed and no personal financial data is shared or ever stored on the handset.
Integration into Apps and m-sites is straightforward as PayPal has set up developer freindly API's and developer kits easily available from its website.
Paypal also serves a mobile optimised version of its payment process to any customer using Paypal on a mobile phone, irregardless of whether the merchant store is mobile optimised.
Paypal's Mobile Express Checkout is secure, easy to use and easy to integrate.
Project Innovation / Need
M-Commerce means customers can shop whenever and where ever they want.
But the process needs to be simple and take into account the limitations of a handset (small screensize, less concentration time). Transactions also need to be 100% secure, protecting both customer and merchant.
PayPal has applied its successful online payments model to the mobile sector to provide a mobile payments solution that is secure and easy.
Launched in October 2010, already over half a million Australians have transacted using Paypal on mobile.
User Experience
When shopping on their mobile phone (via either Apps or m-sites), a customer simply clicks on the Pay with PayPal button to begin the payment. They then enter their unique passcode (as little as 4 digit pin number) to enter their PayPal account. The item and price they wish to buy is listed, along with the delivery address if relevant, the customer then confirms payment and the transaction is complete. A reeipt is also emailed to the customer.
A merchant needs to set up a merchant account with Paypal and then add Paypal to their shopping cart or sales process.Development is made easy via PayPal's API documentation and SDKs, adding little to project development time.
Also, PayPal have partneted with Event cinemas to provide a fully mobile ticket purchasing experience. See video at:
http://www.eventcinemas.com.au/PayPal-Pocket-Cinema

Project Marketing
PayPal communicates directly with its existing online merchants to make them aware of the innovations and capabilities of mobile and to let them know their customers are already viewing their stores via their mobiles.
PayPal also works with our mobilised merchant partners on co-marketing campaigns to entice shoppers to buy using mobile. For example sending an EDM alerting Paypal members they can get free shipping if they buy and pay via PayPal mobile (Roses Only).